Strongpela Meri
The film is a reflection of women living in and around Goroka in the Eastern Highlands of Papua New Guinea during the 28 day Covid-19 lockdown that was imposed by the Government. The women relied heavily on the informal street markets to provide food for their families. These markets are referred to as Table Markets and the women resellers as Table Mamas. The film highlights the resilience of the women in their role to provide food for the families even when their lives were at risk. Betelnut regarded as the Green Gold in the Highlands played a prominent role in generating the needed income. Those who owned land survived through sale of their garden produce. The settlers who are 'landless' survived due to strong community networks that operate on the notion of 'I share whatever I have so you and I can survive'.
Kafe Urban Settlers Women's Association

The Kafe Urban Settlers Women's Association (KUSWA) is a non-government organisation based in Goroka, Eastern Highlands Province. Since its establishment in 2006, KUSWA has addressed Gender Based Violence through its advocacy programs and helped victims of violence to seek justice and protection. The local organisation helps victims of violence; train and educate victims; provide counselling services and safe house to accommodate the victims and their families, and also provide paralegal services.
The president and the founder of KUSWA is Ms. Eriko Fufurefa. Hence, her reflection on the impacts of covid -19 had on marginalized women is vital because of her many experiences dealing with victimized women. Capturing her views on film the government role in addressing emergencies, especially for people in rural communities and the urban settlers is profound.
Center for Social and Creative Media
Center for Social and Creative Media was established in 2012 at the University of Goroka. It is a research center focusing its research on the use and application of media and communication for the benefit of individuals and communities. To date, CSCM has successfully completed over 27 projects on various social and environmental issues that affect communities. CSCM looks at giving a voice to the community through the use of media and developing local research and development approaches.
Center for Creative and Social Media's vision is to innovate the use of media and communication research and practice in the Pacific applying and investigating concepts of social justice and indigenous values.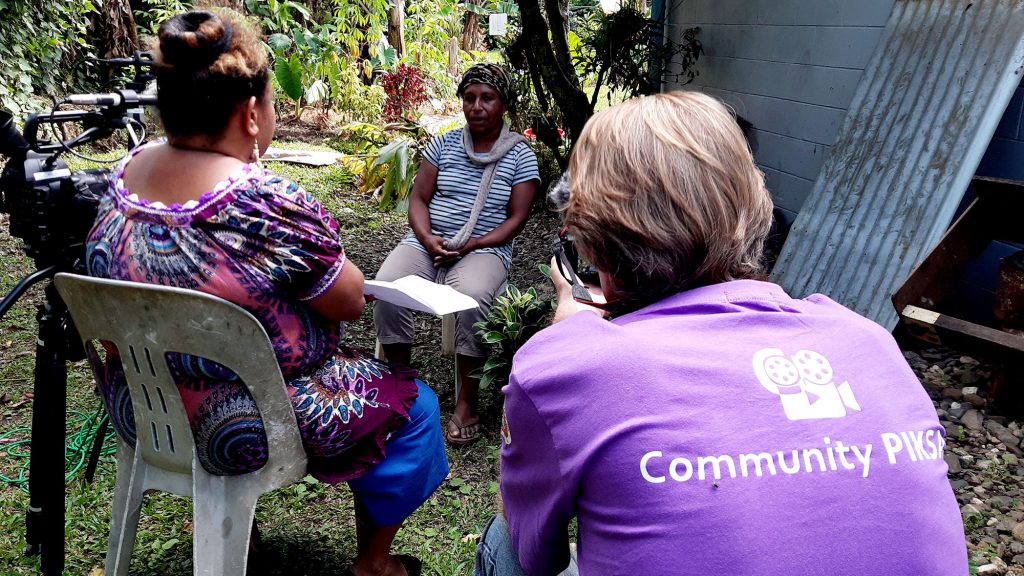 Table Mama Wena being interviewed
CREDIT LIST
Directors
Pikacha McLeen
Eggert Gunnarsson
Camera
Dilen Doki
Script
Lilly Sar
Editing
Eggert Gunnarsson
Contributors
Table Mama's
Gumene Paito
Wena Have
Daly Komane
Moro Samson
President-KUSWA
Eriko Fufurefa
Partners
Kafe Urban Settlers Woman's Association (KUSWA)
Eriko Fufurefa
Umba Peter
Creative Arts and Media Communication
University of Goroka
Janet Munaup
Research Assistants
Bathsheba Wekio
Erik Supa
Lucy Wakei
Simon Wakei
Maori Wakei
CSCN STAFF
Assitants
Cynthia Ventunawa
Damaris Warambukia
Accounts
Joanne Dena
Producer
Lilly Sar
Division of Creative Arts & Media Communication-School of Humanities
The film 'Strongpela Meri' was produced in partnership with the Creative Arts and Media Communication that is a BA Honours course at the University of Goroka. CAMC focuses on being progressive and innovative using fine art, graphics, dance, music and media to enable its students to excel in their studies. A new BA Honours in Media studies will be launched in 2022.